Chances are, when you googled "girls on fixies" and arrived here, you were hoping for scantily clad babes standing next to a bike, something for your desktop wallpaper or for re-posting on a forum somewhere. Sorry, no skin here, just a
big up
to the girls over at
Candy Cranks
.
What is Candy Cranks (you ask sotto voce)? Let them tell the story:
Candy Cranks is a collaboration of female riders from around the globe giving insight to bike culture in their home cities.
A lot of women find the prospect of cycling on busy roads daunting. By showing how other females around the globe cycle for all different reasons whether it be to commute, for fun, fitness, sport, socialising or just cruising to the local cafe, we hope to encourage other girls to get out there and start spinning!
Candy Cranks has riders contributing content from all round the world. The Candy Cranks website is very much focussed on urban cycling and there are even a couple of fixie chicks contributing from Aus. In fact, the website has an international outlook but a strong local flavor.
The fixie girls have some of the nicest merch I've even seen. Try these Candy Cranks: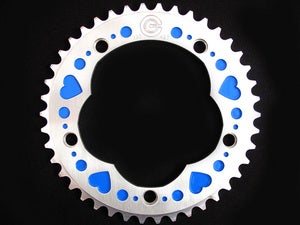 Don't you want some? Boy or girl these would look smick on your fixie. They're made in Aus, as is this frame:
That's a gorgeous looking frame, handmade in Aus for just on $1,000. Not bad at all. The full frameset sets you back $1,199.
The world definitely needs more girls on bikes, be they fixies or not, and it's great to see Candy Cranks providing a pathway and an outlet for them to share their passion.
Now try googling "babes on fixies" if you still have to have that wallpaper.